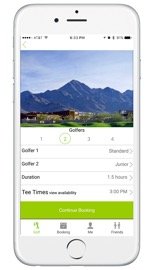 What is Get Out! Golf?
Unlike the traditional 18-hole round that is sold today, we enable golfers to buy golf in time increments that fit their life.
We eliminate the barriers that keep some people away from golf.
Get Out! Golf appeals to two groups
-Experienced, but lapsed or less active golfers who struggle to find time to play
-New golfers looking for an easier way to learn the game
I want to play. What do I do now?
-Download the App

  or search for Get Out! Golf in the App store (Android App coming soon)
-Select a tee time and number of golfers
-Specify the duration you want to play – in any 30 minute increment
-Play golf!